Artist of the Month – Calista Kazuko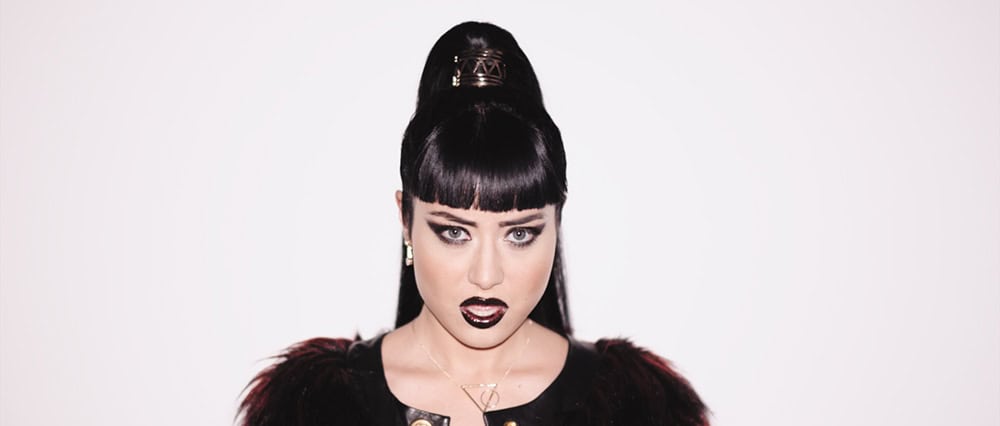 Artist of the Month – Calista Kazuko
November 2, 2017
Calista Kazuko will be playing at The Plough in Shepreth on Saturday 11th November 2017
The Plough in Shepreth is a village pub that aims to provide more than just a pint!  They want to offer 'friendly and welcoming atmosphere whilst offering a variety of services to be enjoyed by both the local community and visitors from the wider surrounding area. "Traditional Plus" is a phrase we find ourselves returning to frequently, and probably best sums up our overall outlook.'
Calista will certainly bring something quite unique and exciting to The Plough on the 11th November. As the daughter of famed violinist, Paul Robertson (founder of the Medici Quartet), the 'high priestess' of 'Pop Macabre', Calista Kazuko, was born into a bohemian family where classical music was a staple part of the diet. But now, the eccentric London based singer-songwriter is all about high art, high class, high gloss and high drama. She's a Jew-panese goddess with a grand piano in tow; Amanda Palmer with a Vogue makeover, a loaded gun in her handbag and an occasional accordion.
All of this encapsulates the dark character and sinister inner demon of Calista Kazuko whose classical roots at the Royal Academy of Music have been jettisoned and instead, she is carving out her own genre with a diamond-edged blade which she likes to call 'pop-noir', perfectly and elegantly exhibited in her latest single from her Project: Love Me EP, 'Life With Ivy'. Perfect for that post-Halloween come-down where you're still hungry for more of the darker side of popular culture!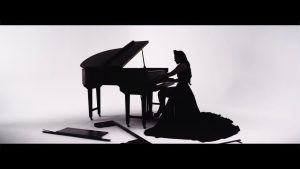 After the intense diva-carnage of her first single, 'Poison', The evocative, lightly jazz-inflected 'Life With Ivy' is a gentle, shimmering number that tells the story of two women; one lost, one longing. The new single reveals a glimpse of a new layer to Calista's complex musical persona – juxtaposed to her previous releases, listeners are now seeing a new side to her; one of sensitive vulnerability.
Teaming up with filmmaker Philip Reinking, 'Life With Ivy' comes accompanied by a video filmed in a historical West London mansion featuring a silhouetted Calista as Tretchikoff's Green Lady, reimagined in soft, Merchant Ivory golds. The video forms part of the 'At Home With Calista Kazuko' mini-series of dramatic featurettes; the music recorded in one live take, the visuals drenched in elegance and opulence, but always with an underlying dark tone. This sinister visual theatre will become more than evident when Calista performs in a uniquely intimate venue where she can engage with every member of her audience.
Within this aesthetic, Calista collaborates with top end musicians, designers, directors and artists to create her multi-faceted style – Stella McCartney has used her music to open a catwalk show and luxury French clothing brand Jitrois even named a leather jacket after her.
Calista's way with a grand piano, story-telling songwriting and sophisticated performance style blend together into a dry, heady cocktail that will leave your emotions exposed and giddy. She's not so much lightning in a bottle as the conjuror of the storm. High concept videos and live shows have earned her a reputation as an unrelenting force from LA to London, winning fans with her dynamic voice and captivating songwriting, and garnering her comparisons with Florence and the Machine, Diamanda Galas, Tori Amos and Regina Spektor.
Speaking of her new EP, Calista noted
'I consider it to be my first proper EP. This is the one that really excites me. I've worked with labels and managers who have tried to commercialise me, and this is the first thing that I've done where I've felt I'm really being me.'
A regular visitor to Cambridge, Calista has already completed an American tour this year with fellow musician, Chanel and the Circus, performing at a host of bizarrely unique venues including a Beverly Hills mansion, a San Francisco pool party, Seattle's biggest boxing ring and a nunnery in Spokane. Calista's appearance at The Plough in Shepreth is likely to be one of the most unusual, gripping live performances seen in the Cambridge area for a long time.